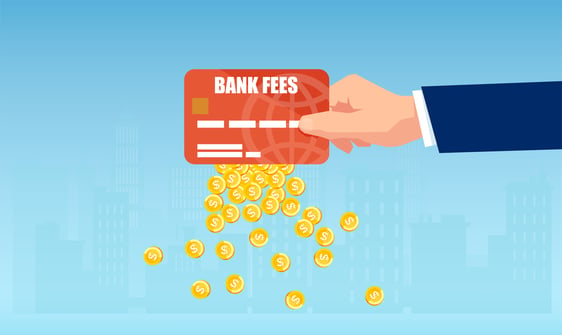 One way that banks make money is to charge fees when people use their bank accounts. On average, Americans paid over $32.2 billion in banking fees in 2021. That means that Americans paid an average of approximately $53.79 per account in banking fees. Considering that many Americans have multiple accounts either as an individual or in their household, that adds up to quite a bit of extra money spent to simply access money while it sits in a bank.
Many Americans are not aware of what fees a bank will charge when they open a new account at a bank. They are unsure what the cost will be to access their own money in the future. However, paying attention to what fees are attached when opening a checking account can help you save money.
A Quick Word About Understanding Banking Fees
It's important to understand that you will find very few banks operate without charging any banking fees whatsoever. Banking fees are simply one of the ways that banks create revenue and continue to stay in business. However, it's important to know what fees the banks are charging and how much those fees will end up costing on a monthly or annual basis. You want to look for a bank that provides you with a transparent guide to their banking fees before you open a bank account.
10 Types of Banking Fees Banks Often Charge
Banks will often charge a variety of fees to use your basic bank accounts. While it's often impractical to avoid all banking fees, you want to keep the banking fees as low as possible at your financial institution. The less you pay in banking fees, the more money you will have in your pocket.
The following are 10 common bank fees that you should look for when choosing to open a new bank account:
1. Monthly Service Fees
The monthly maintenance fee is a fee that is charged by a bank to keep the account operating on a regular, monthly basis. A monthly maintenance fee may be assessed when an account has specific monthly requirements that are not met. There are banks that charge up to $15 per month to keep an account active. Depending on the account benefits such as rates, cash back options, ATM service charge refunds, etc. the fees can be higher.
How to Avoid of Paying the Fee
The only way the fee is usually waived is if you keep a minimum balance in the account or deposit a certain amount of money into the account each month.
2. Overdraft Fees
If your account balance drops below ZERO dollars an overdraft will occur since there is not enough money in your account to pay for a transaction, but the bank pays (covers) the transaction anyway. The typical amount charged for an overdraft fee will run between $30 and $35 for each overdraft that is committed. If you didn't realize that your account balance was low, you might end up overdrawing the account three times in one day. You could end up paying $90 to $105 in fees to have your payments covered.
How to Avoid of Paying the Fee
You can set up overdraft protection by automatically having the money transferred from another account (such as a savings account) to cover any potential overdrafts, which saves you from paying the overdraft fee. You may also see if your bank allows for notifications when your balance falls below a certain amount. Notifications can be sent via SMS or email at most banks.
3. Insufficient Funds Fee
This fee is charged when a transaction is conducted on your account but there are not sufficient funds to pay the item. In this instance, the bank would reject the transaction and the item or requested payment is returned unpaid. The bank will likely charge a fee for this.
How to Avoid of Paying the Fee
Consider setting up another account to connect to your main checking account to avoid these fees. Using another account to help cover over drawing your account may help save you from paying insufficient funds fees. You may also see if your bank allows for notifications when your balance falls below a certain amount. Notifications can be sent via SMS or email at most banks.
4. Out-of-Network ATM Fees
You will be charged a fee every time you withdraw money from an ATM outside of your bank's network. This fee is assessed by the ATM owner, in most cases a bank, and will usually be a minimum of $2 to $3.50. When choosing a bank, you want to understand where their ATMs are located, and which ones you can use without an extra charge.
How to Avoid Paying the Fee
Choose a bank with ATMs in convenient locations that are close to other places you go in your daily life. That will make it easier for you to regularly use ATMs that are in your network, rather than those outside of your network. Use your bank's website or mobile app to find ATM locations nearest to you.
5. Excess Transaction Fees
In legal terms, you are restricted from taking money out of a savings account more than six times per month. Laws state that additional withdrawals need to be penalized. That doesn't mean that the bank has to charge a fee, but that's what many banks do in order to inflict a "penalty" on the person for completing too many transactions in one month. Most banks will charge a minimum fee of at least $10 if you exceed your six allotted transactions per month.
How to Avoid Paying the Fee
You will want to plan your withdrawals from your savings carefully when you set your budget up each month. If you avoid doing more than six transactions per month, you will not have to pay any additional fees.
6. Wire Transfer Fees
Wire Transfers are used when you transfer money from your account to another account at a different financial institution. Wire transfer fees range from $10 to $50 depending on the type of wire transfer being sent.
International Wire Transfers

are when the transfer of funds is being sent to a financial institution outside of your country and fees are usually higher than domestic wire transfer fees.

Domestic Wire Transfer

are when the transfer of funds are being sent to a financial institution within your same country.
How to Avoid Paying the Fee
Unfortunately, most financial institutions will charge a wire transfer fee. You can ask your bank for alternative, no-fee options for the specific transfer you are conducting.
7. Paper Statement Fees
Most banks provide you with electronic monthly statements on each of your bank accounts at no charge. Due to the cost of paper and shipping, many banks will charge you a fee in order to send paper statements to account holders. The average bank will probably charge you around $5 for monthly paper statements, but some may charge more.
How to Avoid Paying the Fee
Enroll in electronic statements at your financial institution to no longer receive paper statements.
8. Foreign Transaction Fees
These fees are charged when you complete a bank transaction in a foreign country. Debit card issuers like Visa and Mastercard charge a 1% foreign transaction fee. Companies expect you to cover this percentage and sometimes more. Up to 3% of your purchase may be charged in foreign transaction fees when using certain cards.
How to Avoid Paying the Fee
The only way to avoid the fee for a foreign transaction is to take cash with you rather than using cards. However, that may not be the safest option, and many people will end up paying a fee in order to get their cash exchanged into the currency needed. Those fees may be lower, but you will have to determine which will cost less in the long run.
9. Inactivity Fee
If you don't use your bank account for a certain period of time (usually 12 months or longer), then you may have to pay an "inactivity" fee. You may pay up to $20/per month for an account you are not using.
How to Avoid Paying the Fee
If you are opening a new bank account, ensure that you will keep that account open and active for at minimum the financial institutions required time to not incur an account closure fee.
10. Account Closing Fees
Some banks charge a fee to close an account, which can run you up to $25. This is common if the account was opened within the past 3 to 6 months.
How to Avoid Paying the Fee
If you are opening a new bank account, ensure that you will keep that account for at least a couple of years.
Conclusion
You will likely have to pay some bank fees, no matter which bank you are going to use. However, understanding the number of fees that you will pay and the amount that you might accumulate is key. The less you spend on bank fees, the more money that you keep in your pocket.
For more information on how to limit your banking fees and to open an account with us at Valliance Bank, reach out to us for further assistance. We are happy to help you save as much as possible on banking fees so that you can make the most of your hard-earned dollars.